#include <RedisInternal.h>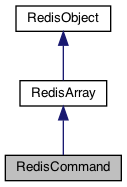 [legend]
◆ RedisCommand()
[1/2]
| | | | | | |
| --- | --- | --- | --- | --- | --- |
| RedisCommand::RedisCommand | ( | String  | command | ) | |

inline
◆ RedisCommand()
[2/2]
| | | | |
| --- | --- | --- | --- |
| RedisCommand::RedisCommand | ( | String  | command, |
| | | ArgList  | args  |
| | ) | | |

inline
◆ ~RedisCommand()
| | | | | |
| --- | --- | --- | --- | --- |
| RedisCommand::~RedisCommand | ( | | ) | |

inline

override
◆ issue()
| | | | | | |
| --- | --- | --- | --- | --- | --- |
| std::shared_ptr< RedisObject > RedisCommand::issue | ( | Client &  | cmdClient | ) | |
Issue the command on the bytestream represented by cmdClient.
Parameters

| | |
| --- | --- |
| cmdClient | The client object representing the bytestream connection to a Redis server. |
Returns

A shared pointer of a "RedisObject" representing a concrete subclass instantiated as a result of parsing the Redis server return value. Check RedisObject::type() to determine concrete type.
Definition at line 83 of file RedisInternal.cpp.
◆ issue_typed()
[1/4]
template<>
| | | | | | |
| --- | --- | --- | --- | --- | --- |
| int RedisCommand::issue_typed | ( | Client &  | cmdClient | ) | |
◆ issue_typed()
[2/4]
template<>
| | | | | | |
| --- | --- | --- | --- | --- | --- |
| bool RedisCommand::issue_typed | ( | Client &  | cmdClient | ) | |
◆ issue_typed()
[3/4]
template<>
| | | | | | |
| --- | --- | --- | --- | --- | --- |
| String RedisCommand::issue_typed | ( | Client &  | cmdClient | ) | |
◆ issue_typed()
[4/4]
template<typename T >
| | | | | | |
| --- | --- | --- | --- | --- | --- |
| T RedisCommand::issue_typed | ( | Client &  | cmdClient | ) | |